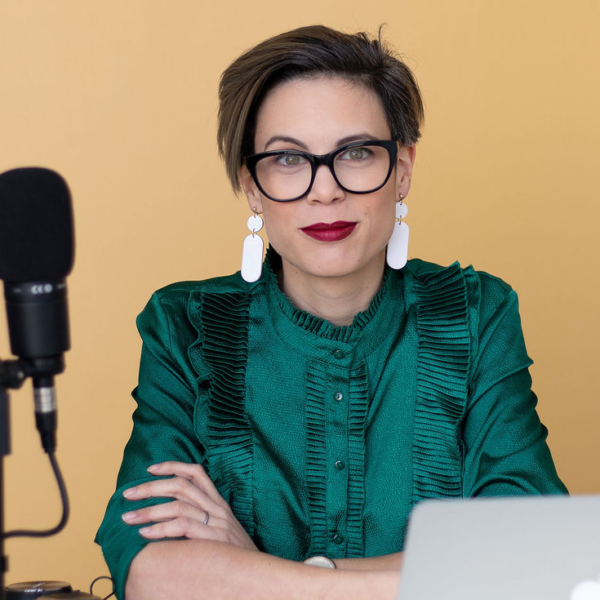 In this episode Ana Xavier of The Podcast Space explains how random passion can be a gateway for connecting with others. Ana and I meet at Podcast Movement 2021 in Nashville. She's is a podcast industry expert who thrives on helping podcast creators and entrepreneurs embrace their creativity and creative flow.
We talk about this, our respective experiences at Podcast Movement 2021, the creativity she pours into her business, creator overwhelm, batching for productivity, growing a podcast on a limited budget, social media engagement, using podcasts as a marketing tool for  business and more. There's always more. 🙂
The Podcast Space provides a broad range of resources and actionable tips for podcasters. Learn more about Ana at ThePodcastSpace.com and @ThePodcastSpace on Facebook, Twitter, Instagram and Pinterest.
Please enjoy my conversation with my Ana Shevier.
This episode was powered by Podcast Startup
Starting a podcast can be a challenge. Many of the challenges revolved around fear, procrastination and tech.
I know what that feels like, yet I've recorded and published over 260 podcast episodes.
If you want to share your expertise, garner expertise from others, dig deep into a special interest, help others, get more website visitors, expand your personal brand, grow your network, then podcasting might be for you.
If fear, procrastination or technophobia are preventing you from staring your podcast, check out Podcast Startup by Morning Tempo and The Unstarving Musician. Podcast Startup is for creators with a voice.
Learn more about Podcast Startup
This episode was powered Morning Tempo Web Design
We focus on functionality, security, email marketing and e-commerce for small business and non-profits. We also fix stuff. So if your site is broken in some way or infected with malware, we can help. To learn more and to find out if Morning Tempo is right for your website needs, visit MorningTempo.com.
Mentioned in this Episode
Maximize Your Podcast Content (course by The Podcast Space)
Chill & Prosper (podcast) with Denise Duffield-Thomas
Debt Aversion, Knowledgeable Customers, and Competition – Thom Snellings (Morning Tempo podcast episode)
Secrets of Creativity – Chris Taylor (Unstarving Musician podcast episode)
Support this Podcast
The Morning Tempo podcast exists solely through the generosity of its listeners, and we gladly accept support in a variety of ways. Please visit our Crowd Sponsor page to learn more.